---
What Do I Know (made from scratch)
Highland Icon Series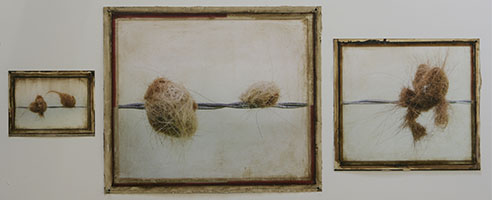 ......
the artist's ongoing exploration of surface manipulation and the inherent physicality within two-dimensional surfaces. This new collection marks a shift in Cox's subject matter from totally abstract content to figurative subjects realized as digital photographs whose surfaces have been affected by Cox to produce a heady patina and sumptuous inner luminosity.
Cox's photographs vary in size, ranging from single images under two feet to a triptych that measures ten feet across. The series features nature-themed subjects shot near his rural Colorado home, including dahlias in the field and Highland cattle hair snarled in barbed wire. The elaborate tangles of hair—left by cows rubbing repeatedly against the wire—represent for Cox nature's process, and the life force within the creature and its surrounding world. "The delicacy and intricacy one observes in the hair left on the barbs belies the massive bodies of the beasts from which it originated," he explains. "I think of these images as icons, as portraits. There is an animation that occurs, a singular presence to each. What began as general has taken on specificity." Likewise, images of the dahlias denote nature's constant cycle of budding, going to seed, and blooming once again.
The highly detailed macro images are printed onto paper that the artist has infused with beeswax and coated, incrementally, with pigmented wood putty and other imbedded hues to create an internal framing structure and physical depth. These augmentations work in concert to transform the otherwise opaque support into a succession of translucent planes with dimension and luster. After treating the paper, Cox works the area by hand, burnishing, smoothing, and refining it to reveal a multifaceted finish of light-engaging contrasts and values. The resulting surface comprises layers of visual and tangible textures that coalesce to form a deep, luscious picture plane that is both dynamic and refined.
Cox displays his mixed-media pieces without external frames or glass, highlighting the tactility of their surfaces and in effect removing any physical barriers between artwork
and viewer. In addition to emphasizing the objectness of the work, such a presentation, he says, "heightens viewer experience" and reveals its "ephemeral quality of lightness."
Cox cites living in abundant wilderness with his recent, heightened interest in nature and subsequent move to figure-based art. He has become more physically and mentally aware of his surroundings, and remains intent on communicating in his work "the real" that he encounters within his immediate environment. He remarks, "If I am not relentlessly experimenting in my work, with my focus, with my concepts, unafraid to fail, than I should find another line of work."
Elizabeth Delaney, January, 2017
---
Botanicus Mysteria
Photography is not about the thing photographed. It is about how that thing looks photographed.
Garry Winogrand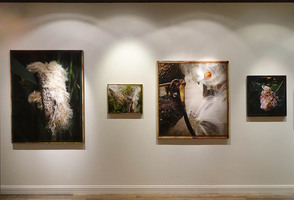 The works in this series are photo-based. The images of flora are printed on Innova Soft-Texture Natural White 315g paper, mounted on MDF panels. My process involves applying a beeswax surface to the 'print', which will have one or several collage elements; fabric, paper, pigmented wood putty. The surfaces are patinated with asphalt emulsion washes and burnished. I am interested in the 'objectness' of each piece, the physical/sensual surfaces, the mystery the images of the plants manifested in the works.
---
Concentric
and
Post
Concentric Episode Series.
'constructed paintings': 2001-2014: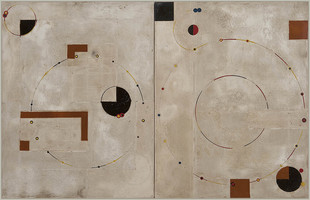 Constructed paintings comprise the
Concentric
and
Post
Concentric Episode Series.
They are symbolic abstractions of time and memory, created by a process of applying multiple layers of pigmented wood putties, on wood panels with grids that have been chased into their surfaces. Those grids which appear irregularly through the layers of putty are a metaphor for memory, while the concentric, multi-chromatic rings are symbolic of time.
The Curtain Series, also constructed paintings consisting of multiple layers of pigmented
wood putties, are more organic and gestural than the Concentric Episode Series
because of the drawing process and their overall image. Read as translucent curtains or membranes, they are both literal and metaphoric barriers between the viewer and that which exists beyond.
All of the 'constructed paintings', including those from the
Post
Concentric Episode Series
. the
Curtain Series,
and
Stackers
, are done on wood panels. This is necessary because I often
cut and drill the surface before applying the primary medium, pigmented wood putties.
I apply several layers of pigmented wood putties, again often drilling and incising
the surface, and fillings the holes and incisions with more putty.
All of the color one sees in the work is embedded and integral to the surface…there is no paint
on the surface. Sanding the surface many times throughout the process eventually brings to
fruition the sensual surfaces one sees in the final work. A wax medium is the final application
to the surface, which enhances the color and protects as well.
---
FAILURE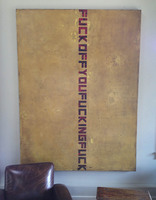 Growth, risk-taking, shifts in thinking, self–reflection, deconstruction, and
transformation, often result from failure. With this in mind, I consider
failure an integral element in the making of art that is 'worth a shit.'
In thirty years as a professional artist, my most profound work has
been moved forward, without a road map, by a process that embraces
exploration of concept, medium and imagery, potholes of failure along the
route. If an artist's path is one that has many forks in it, he will be compelled
to exhibit the breadth of his exploration…aggressively edited so as not to
share that which the artist deemed a failure.
Failure is the fast approaching train Of the greatest success.
Sri Chinmoy
---
Site Series:
2008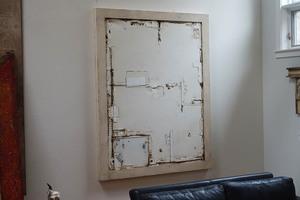 In this latest series of constructed paintings, Cox continues to examine the sculptural possibilities of painting, drawing inspiration from his list of diverse, often surprising materials. Wood putty, beeswax, cloth, bone, and shells are melded together to create layered and strikingly expressive compositions.
Beginning with a collection of small objects attached to a wood panel, Cox pours on a layer pigmented beeswax. He then moves and manipulates the still-cooling wax, creating a multitude of both subtle and dramatic marks and impressions. Much of the materials used are taken directly from the shirt of a Dogon hunter from Mali, Africa, reflecting the personal, humanistic approach that Cox employs. Each composition is framed in wood covered in pigmented wood putty. The simplicity of these frames allows the viewer to focus in on the intimate, sensual surfaces of the paintings. A remarkable contrast arises between the expressive arrangement placement of the objects in the wax (tusk, cloth, brazil nuts, shells) and the austere elegance of the finished wood frames. The frames create an iconic sense of object.
Cox states that he is interested in the viewer closely examining these works, as their
surface nuances offer visual and physical stimuli critical to feeling and understanding
the objects/paintings.